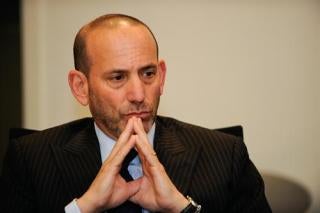 On the final match day in the 2013 MLS season, Brazilian striker Camilo Sanvezzo scored a hat trick for the Vancouver Whitecaps in their 3-0 victory over the Colorado Rapids, narrowly overtaking Mike Magee to claim the Golden Boot. Unsurprisingly, this piqued the interest of numerous teams interested in securing the services of the promising forward. Vancouver, however, had underwhelmed in 2013, and saw no reason to sell their most prized asset, who was still under contract for another year.
Camilo, who had been with the club since 2011, saw things differently. In short, Camilo received an offer from Mexican side Queretaro FC, who promised more money and didn't give even the tiniest of shits that he was still under contract with the Whitecaps. So the Brazilian left Vancouver and showed up in Mexico wearing a Queretaro jersey, much to the consternation of the Whitecaps and MLS.
After much negotiation and back-channeling, Vancouver did eventually receive a transfer fee, thought to be in the range of $2.2 million. And in a bit of karmic retribution, reports out of Mexico indicate that Camilo isn't getting paid at the moment, amidst Queretaro's financial troubles and a money laundering investigation of owner Amado Yáñez.
Nevermind the sneaky bullshit of it all, the Camilo saga brought attention to two unique and confusing issues behind the league's contracts; the "unilateral option" and the league's "single-entity" structure. The MLS has never been accused of excessive transparency or clarity when it comes to the specifics of transfers or contracts, and even some of the league owners have trouble fully understanding the fee structures and allocation process because it's all so damned convoluted.