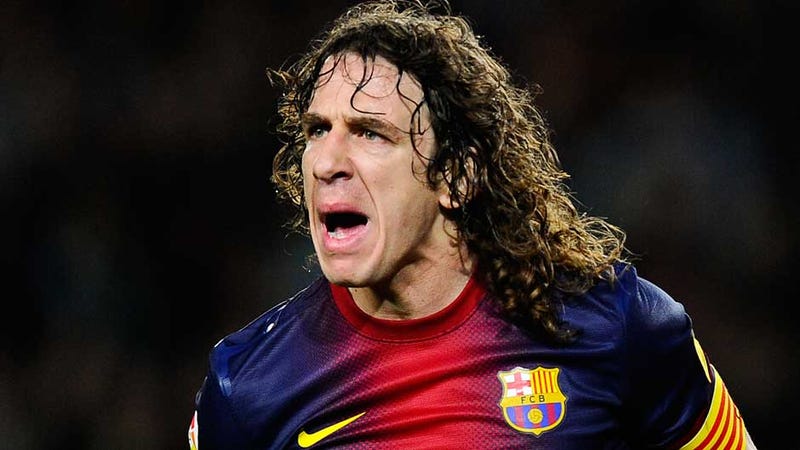 Earlier today, Barcelona defender Carles Puyol called a press conference to announce that he will be leaving the club at the end of this season, citing that he can no longer play at his own, and Barcelona's, impossibly high standard. While this isn't the most surprising news - Puyol has struggled with a constant stream of injuries for the past few seasons - it's a psychological blow to Barça and the Spanish national team nonetheless.
For nearly two decades, Puyol has formed the core of Barcelona, along with other club lifers like Xavi and Victor Valdes. Puyol's announcement is another unfortunate sign of the waning of this generation of players who made Barcelona, and the Spanish national team, so exceptional. Xavi has not been his brilliant best, and is no longer a guaranteed starter under new manager Tata Martino. Valdes will also leave the club at the end of this season, as he looks to test himself in a new league.
When so many of Europe's best teams become powerhouses by poaching talent from around the world, price be damned, it's refreshing to watch players like Puyol, who have spent their entire careers at one club. He has been Barça's captain for a decade now, and though he's missed much of the past three seasons, he remains the heart and soul of the Blaugrana. But Puyol turns 36 next month, and his inability to stay healthy or keep up with the speed of the game has been obvious of late.
In his 15 years with Barcelona's first team, Puyol has suffered 36 injuries causing him to miss playing time, and 8 of those were to his knees. Most recently, he underwent surgery on his right knee last June, his sixth time under the knife in his career. In Puyol's absence, Gerard Pique and converted midfielder Javi Mascherano have formed Barça's central defense. It's no coincidence that for the past two seasons while Puyol has regressed and struggled for fitness, Barcelona's lack of depth at centerback has been a constant concern. When Puyol has played recently, he's looked less than his best, as seen when he was rent asunder by Real Madrid's Angel Di Maria in last year's Copa del Rey.
But to speak only of Puyol's recent dip in form is to do a massive disservice to a player who helped define Barcelona's and Spain's golden generations. For his entire career, Puyol has sported the crazy hair of a castaway. Former Barça manager Louis van Gaal once asked Puyol to cut his hair, but the caveman famously refused. Perhaps his terrifying locks make him seem more imposing than he really should be. It's easy to forget that Puyol stands only 5'10", relatively small for a central defender. But his intensity and uncanny ability to read the game always made Puyol seem ten feet tall. Affectionately referred to as "The Wall", Puyol was able to shut down even the fastest and most creative attackers in the world, often with devastating physicality. Whereas modern centerbacks like Gerard Pique play with grace and comfort on the ball, Puyol is more like a sentient wrecking ball.
While scoring goals is the last thing you'd remember a player like Puyol for (he has only 18 in nearly 600 games for Barcelona), one of the most memorable moments of his career was scoring a goal. In the semifinal of the 2010 World Cup, Spain and Germany were scoreless in the 73rd minute, until Puyol flew over every other player on the field to head home a well placed corner, and send Spain into the final, which they would go on to win. Of equal importance is that Spain allowed just two goals, the fewest of any World Cup champion ever, during the entire tournament. That had more than a little bit to do with Puyol.
Puyol's legacy will be one of relentless competitiveness, but for all of his aggression on the field, he's never been a divisive figure. While other Spaniards on either side of the Real Madrid-Barça fault line have played particularly nasty Clásicos and engaged in a war of words that nearly ruined the unity of the national team, Puyol has always been relatively quiet and reserved off the field. He and Real Madrid lifer Iker Casillas helped hold La Roja together at a time when the antics of Jose Mourinho threatened to destroy any semblance of civility between the two clubs and its players.
So, what's next for the least marketable player in Europe? He gave no hints in his press conference, but as is the case with any aging superstar, the MLS rumor mill is already up and running. There have also been whispers of him following fellow Spanish legend Raul to see out the remainder of his playing days in Qatar. This might make sense, given Barcelona's partnership with and close ties to the emirate. But accepting that he can no longer play at the highest level must surely have been a bitter pill for Puyol to swallow. He is unlikely to feature for Spain in this summer's World Cup, so these next few months could very well be the last we'll see of Puyol as a player. Whether he lands a coaching role, plays a few more seasons in a lesser league, or hangs up his boots altogether, Puyol deserves to leave Barcelona and Spain as the hero that he is.
Back in 1999, Puyol made his first team debut, against Real Valladolid.
In 2001, he scored his first Barça goal, against Real Valladolid.
This Saturday, Barça travel to Real Valladolid.
With the Liga title race as tight as ever, Barcelona will look to field a strong team and claim a vital three points, so Puyol is by no means guaranteed playing time. But it would be a fitting start to his farewell tour if he were able to see some minutes and sport his well-deserved captain's band once more, against an opponent that holds such significance to him.
Puyol is a huge fan of heavy metal band Napalm Death. He listens to them before every game, and their music is perfectly apropos to the defender's intensity and aggression. So it's only fair that we say farewell to soccer's genetically-enhanced Tarzan, the flying caveman, a legendary defender, with some good old fashioned death metal. Godspeed, Carles, you will be missed.