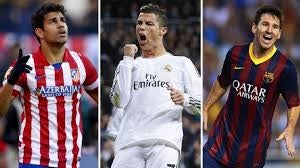 As of this moment, first place FC Barcelona and third place Real Madrid CF are separated by just one point in the Spanish Primera División. Sitting in second place, tied with Barcelona on points but behind in goal differential, is Atlético Madrid. With almost half of the season still remaining, the eventual champion is really anyone's guess at this point.
Elsewhere in Europe, things are different. Barring a massive collapse, Italy, Germany, and France have more or less crowned their champions already. In England, it's much more wide open. So why is it worth mention that three Spanish clubs are in a very tight race for the title? When just two points separate the top three teams in England, none of which are Manchester United, who cares about Spain?
As anyone with cursory knowledge of European soccer knows, La Líga has always been dominated by Real and Barça. They have 32 and 22 league titles, respectively, throughout their history. The next closest team is Atlético Madrid with 9, and it's been a decade since a team other than Real or Barça won the league. They've simply always had the money, the superstars, and the clout that put them head and shoulders above the rest of Spain's teams. Furthermore, the domestic broadcast deal is laughably unfavorable to anyone but Los Blancos and the Blaugrana.
Much has been written about the signings of superstars Gareth Bale and Neymar, both of whom have adapted well to life in Spain. In the near future, they'll both be challenging teammates Cristiano Ronaldo and Leo Messi for Golden Boots and Ballons d'Or. Suffice to say, the goal-scoring futures of Real Madrid and Barcelona appear to be secure.
While Madrid and Barça have always been able to buy or home-grow the world's best players, Atlético have often found themselves the reluctant sellers. In just the past few years, players like Fernando Torres, Sergio Aguero, Diego Forlán, David de Gea, and Radamel Falcao have all left the Vicente Calderón for bigger and/or wealthier pastures. With such a net loss of talent, how could Atlético possibly compete with the big boys?
Enter former Atlético midfielder, Diego Simeone. A young, fiery Argentine who rocks the all black suit and tie like a boss, he has transformed Atlético from second-tier also-rans into formidable contenders. Since being hired in the middle of the 2011 season, the pragmatic Simeone has put on a master class in doing more with (relatively) less. In just two years, his Atleti have won the Europa League, the UEFA Super Cup, and the Copa del Rey in convincing fashion. What's more, his team has shown confidence and aggression that had been lacking in recent years. Despite the noted €400 million gap between them and the Big Two, Atlético have already beaten Real and held Barça scoreless this season.
This resurgence is thanks in no small part to a few phenomenal players who are becoming world class stars. Veteran Gabi, bearded crazy person Arda Turan, and starlet Koke form one of the best midfield trios in Europe, and they have the good fortune of playing just behind one of the world's most efficient goal scorers. Diego Costa, a pitbull of a Brazilian Spaniard center-forward with murky national affiliation, is doing more than enough to fill the shoes of the departed Falcao. Costa does not fuck around. He's not interested in selling you underwear or a plane ticket, he'll just lurk around your 18 yard box, and he will make you pay for even the slightest lapse in concentration.
Costa isn't exactly known for tracking back to help on defense, but that's not the end of the world, and it brings us to the other end of the pitch. While Costa has adequately replaced Falcao, 21-year-old Thibaut Courtois has made Atleti fans forget all about David de Gea. The lanky Belgian has been on loan from Chelsea for the past three seasons, and has become one of the most dependable young keepers around. Chelsea still boast a legend in Petr Cech, so it only makes sense to send the young Courtois out on loan to gain experience. The manner in which he has matured and stepped up his game has been astounding. He's also a big part of why Belgium are the favorite amongst your PBR-drinking friends to win the World Cup this summer.
So Atlético's future will depend on their ability to hang onto stars like Koke and Costa amidst interest from numerous clubs across Europe, and hopefully convincing Chelsea to sell them Courtois outright. In the meantime, they're still in the thick of La Líga, the Copa del Rey, and the Champions League. This could, however, be their downfall. Real Madrid and Barcelona have immense depth, with world-class players like Angel Di María, Iker Casillas, Cesc Fabregas, and Alexis Sánchez all just trying to get on the pitch. Atlético do not have that luxury, and as the season rolls on, their best players are unlikely to get enough rest.
Thus far in 2014, both Atlético and Barça have dropped points, allowing Real (who have yet to concede a goal this year) to close the gap from five points to just one in recent weeks. Los Blancos have the momentum, but Barça now have Messi back from injury, and Simeone's Atleti have never been lacking in confidence.
It's entirely possible that the title will come down to the very last day of the season, when Atlético have the unenviable task of traveling to Camp Nou. I'll admit here my Real Madrid fandom, but this is turning into a hell of a lot of fun, and there are a number of mouth-watering scenarios that could play out on May 18th to decide the champion. For a league that often gets overlooked because of the dominance of the same two teams, La Líga is shaping up to be one of the most exciting competitions in Europe. For the sake of soccer fans everywhere, let's hope it stays that way.