This Saturday, June 14th, many of us will be reveling in the glory of World Cup soccer, taking in any of four exciting matches. The history nerds among us may also be observing the 213th anniversary of the death of Benedict Arnold, America's most famous traitor. Arnold's infamous defection to the crown during the Revolutionary War remains a punchline of treason both gutless and ill-advised. You picked the wrong horse, fuckface.
Aside from the extremely tangential connection that some World Cup matches happen to fall on the day of Arnold's death, why is this relevant? Because in 2014, treason of a different kind is still wildly rampant. Since soccer is the most global of all sports, the manner in which players move around the world to ply their trade and represent different countries is almost as fascinating as the sport itself. The reasons for each player's respective defection are as numerous as the players themselves.
A Selação do Qatar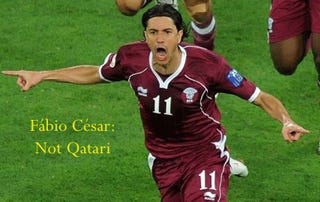 Until 2004, FIFA's eligibility rules were fairly straightforward: a player could represent any nation in which they held citizenship. This simplistic system, however, was ripe for exploitation. Countries like Togo, which fielded six newly-nationalized players in their 2004 African Cup of Nations campaign, were able to throw passports at players, often Brazilian, who were better than any in their homegrown squad.
Then there's Qatar, a country that occasionally pops up in world soccer news. The change to eligibility rules in 2004 came as a direct response to Qatar's not-technically-illegal-yet practices to build up the pool from which the nation of less than 2 million could draw its national team. There were and always will be plenty of very talented Brazilian players who aren't good enough to make A Selação. So Qatar did what any reasonable and comically corrupt nation would: they tried to naturalize three Brazilians, who had zero previous exposure to or connection with Qatar, for their team leading up to the 2004 World Cup. In some cases, Qatar sweetened the offer with up to $1 million cash as a sort of signing bonus. FIFA came in and blocked the moves on account of bullshit, but even after the rules were changed, Qatar continued to find loopholes in the system.
FIFA's new eligibility rules state that a player must have a "clear connection" to any country they wish to represent. So in 2005, Qatar founded the Aspire Academy for Sports Excellence. Through the Academy, Qatar invited promising young players from all over the world to train in its state-of-the-art facilities and, more importantly, spend some time physically in Qatar in order to establish a "clear connection" to the country. The Qatar Football Association also worked with a handful of local club teams to sign foreign players at astronomical salaries, subsidized by the Association, all so that said players could, again, cite a "clear connection" to the country by playing in its national league. In the past decade, Qatar's national team has fielded naturalized players from 11 different countries, including Brazil, Uruguay, Ghana, and Ivory Coast.
Ever the bastion of integrity and transparency in all things FIFA, Qatar continues to toe the line of the regulations, be they for player eligibility or what technically constitutes "bribery" and "slave labor".
Nationality As A Temporary Condition
For all of FIFA's efforts to reform its national representation rules, the gray areas are by no means limited to even the recent past. The most notable current example is that of Atlético Madrid's breakout star striker Diego Costa. Though he was born and raised in Brazil, Costa has played for various Spanish clubs since 2007, giving him enough years in the country to earn citizenship, which he did in the summer of 2013, and also demonstrating a "clear connection" to Spain. Recognizing his value as a pure goal scorer, Brazil's manager Luiz Felipe Scolari called Costa up to the national team for two friendlies in early 2013. That fall, however, the Royal Spanish Football Federation requested permission to call the newly-minted Spaniard up for their national team. Costa soon declared his intention to represent Spain, and after making Spain's final squad for the World Cup, he is sure to be the player most hated by the Brazilian crowds this summer.
Also heading to Brazil this summer is wunderkind Belgian winger Adnan Januzaj. At only 19 years old, Januzaj was a bright spot in an otherwise dismal season for Manchester United. Though he made the relatively simple decision to represent Belgium, Januzaj was eligible for and courted by four countries: Belgium as his place of birth, Albania through his ethnic heritage, Turkey via his grandparents, and Serbia through his parents' homeland. He also could have represented Kosovo, although they do not have a FIFA-sanctioned senior team. Even England manager Roy Hodgson once stated his intention to call the player up for the Three Lions once he had attained residency status, seemingly unaware that Januzaj would never be eligible to represent England. Such was the appeal of landing the promising young star.
Jilted American soccer fans will know the name Giuseppe Rossi. Born in New Jersey to Italian immigrants, Rossi lived in the US until he was 12, before moving to Italy with his father. Then-US manager Bruce Arena invited Rossi to join the USMNT's pre-World Cup training camp in 2006, but Rossi declined, stating his desire to continue representing Italy. A prolific goalscorer over the past six years, Rossi now has 30 caps for the Italian senior team, but failed to make the cut for a World Cup spot in 2010 and 2014. Though this suggests that he's not quite up to the standard of the Azzurri, Rossi would surely have been a welcome addition to the Stars and Stripes, another of the ones who got away.
The Paper Man
Though not a household name like Pelé or Maradona, Matthias Sindelar is a legend of the game as much for his spectacular play as for his tragically obstinate patriotism. Affectionately known as "the Paper Man" for his angular face and slight build, Sindelar was the captain of the Austrian national team at the 1934 World Cup.
Sindelar was a speedy center-forward who played his entire club career with FK Austria Wien. Following Hitler's 1938 annexation of Austria, the Nazis purged FK Wien of all Jewish players and staff, and forbid the remaining members of the club from having any contact with those removed from their positions. Sindelar blatantly refused, making a point to bid a very public farewell to his friend and beloved club president Michel Schwarz, who was ousted from his position as a suspected Jew and forced to flee the country. Sindelar was proudly Austrian, and wouldn't be intimidated by Hitler.
After the annexation of Austria, the Nazis also disbanded the Austrian Football Association, with the aim to incorporate its far more talented players into the German side. Like Mussolini and Franco, Hitler knew that creating a dominant team would garner even more support for his regime. On April 3, 1938, Austria's Wunderteam was allowed to play one final match, a testimonial of sorts - against Germany. Sindelar demanded that the team be allowed to wear their traditional red and white kits, and that they play under the name Österreich rather than Ostmark, as the country had been renamed by the Nazis.
Varying accounts of the game recount that the superior Austrian side allowed the Germans to dictate play in the first half, and intentionally missed any shots they forced on the German goal. In the second half, the Austrians came to life and scored two goals in quick succession. After Sindelar scored, he ran over to a directors' box full of Nazi officials and celebrated wildly, joining the crowd in a chant of "Österreich, Österreich!". Austria held on to win 2-0 in their final match as an independent team.
Though he was clearly still in fantastic form, Sindelar refused to play for the German team at that summer's World Cup, citing his old age (34) or various injuries. The 1938 World Cup was to be a demonstration of power by the Nazis, as they expected to assimilate all of the best Austrians into their ranks and cruise to victory. After Sindelar and a few other high-profile Austrian players snubbed them, the Germans were subsequently humiliated and knocked out of the tournament in the first round by Switzerland. The Nazis were furious.
A few months later, Sindelar bought a cafe from a Jewish man who was forced to sell under new legislation. The Paper Man insisted on paying a fair price, and was further censured by the Nazis for his initial refusal to display propaganda posters in the cafe. From then on, the Gestapo had the cafe and Sindelar's home under constant surveillance, and kept a file on him as a possible enemy of the state.
The following January, Sindelar was found dead alongside his Jewish girlfriend in his Vienna apartment. The official cause of death was listed as carbon monoxide poisoning, but the Nazis ordered the investigation be closed after just two days of investigation. In 1998, Matthias Sindelar was voted Austria's sportsman of the century. He could well have earned the honor based solely on his achievements as a footballer, but his patriotism and courage made him an ill-fated legend of modern Austrian history.
Die Amerikaner

Back in the era of nice Germans, Jurgen Klinsmann has put a distinctly Teutonic stamp on his USMNT. Since Klinsmann was appointed in 2011, becoming the first non-American to lead the team since 1995, the USMNT has been lousy with German-Americans. Most of them the progeny of American servicemen and German women, the likes of Jermaine Jones, John Brooks (who has tattoos representing his roots in both Berlin and Chicago), and Timmy Chandler form an obvious contingent of dual-national talent for which Klinsmann has an eye. What's more, the gaffer has made no secret of his preference for his compatriots.
Five of the 23 players headed to Brazil to represent the USA are German-American, along with a Norwegian-American and an Icelandic-American. The USMNT is becoming, necessarily, more multicultural. Klinsmann understands this better than most. Upon his appointment to the position in 2011, Klinsmann noted that "Soccer in a way reflects the culture of a country. Having studied the U.S. culture over the last 13 years, it's quite a challenge, because you have such a melting pot in this country."
Klinsmann's team selection reflects the national diversity of America. For every Clint Dempsey, who retained his charming Texas drawl after nearly a decade in England, you need a Fabian Johnson, who represents the discipline and versatility of modern German soccer. For every gritty MLS lifer like Kyle Beckerman, you need a "foreign" prodigy like Julian Green who, if he lives up to the hype, may spend his entire club career in Europe. Klinsmann's biggest personnel success so far was convincing the immensely promising but unproven Green to represent USA instead of Germany. An unspoken promise of a trip to Brazil may very well have tipped the scales, but that doesn't discredit what a coup it was to land a talent like Green.
But the influence that Klinsmann has over the USMNT represents an odd paradox for our sporting psyche. Americans are accustomed to being, or assuming they are, the best at just about everything. In the realm of world soccer, however, we've never really been in that conversation. We've had a handful of meaningful successes in spite of ourselves, grinding out results in a "never say die" fashion that is necessary on a team lacking any genuine superstars. Jurgen Klinsmann represents personnel management of national soccer teams in the 21st century. Recognizing the inherent value of so many dual-nationals, the US is better poised than almost any nation to take advantage of its vast diversity.
As long as soccer is played around the world, there will always be murky areas of overlapping nationality. Each person may have their own definition of what they consider to be "legitimate" representation of any one country. Unless Diego Costa decides to pull on a yellow jersey at halftime when Spain and Brazil face each other in the final, we're unlikely to see the same levels of backstabbery as in the past. But that doesn't mean that national eligibility in soccer won't continue being one of the most intriguing soap operas in all of sports.